Yesterday, at the stroke of midnight, the world has witnessed India's biggest ever economic reform. At sharp 12 AM, the Prime Minister Modi and the President Pranab Mukherjee, at the Central Hall of Parliament, pressed two buttons on a glass box decorated with orchids and GST inscribed on it, making GST law applicable henceforth all across the nation. The Goods And Services Tax is being considered as the biggest ever economic reform in the independent India and is seen as a symbol of economic freedom making the dream of 'One Nation, One Tax' a reality.
GST has been dubbed as the most significant economic reform since independence, which is expected to add as much as 2 percentage points to the GDP growth rate besides raising government revenues by widening the tax net. A four-rate structure that exempts or imposes a low rate of tax of 5 per cent on essential items and the top rate of 28 percent on cars and consumer durables has been finalized. The other slabs of tax are 12 and 18 per cent for various goods and services.
India, being a land of pluralism, the culture and language changes within some kilometers, inhabited with the people of different sects and beliefs, most vibrant piece of land on this planet, would not have imagined witnessing a uniform tax structure like GST across the entire nation. Though, the law has been implemented and is all set to be followed along all the length and breadth of this nation, but, this is just an initial step towards a greater goal.
Amongst All Hue And Cries Over GST Government Is Geared Up For Helping People
People are still not completely aware of the terms and conditions related to GST, a lot of chaos and confusion is still prevailing among the traders of this country. In this scenario, a nationwide helpline is mandatory to enlighten people about GST and to clear all their doubts related to various procedures required for GST. In lieu to overcome the people's fear and chaos regarding GST regime, the Government and different private service providers have come to the rescue of traders. Various helpline numbers along with online portal and Apps have been made available to felicitate users with all the information and help required. In fact, these 'helpline' providers are acting as an army without a face to enlighten people about the GST taxation system in the country.
GSTN, the government organization responsible for the IT infrastructure for the GST has set up a portal equipped to handle as many as 2.6 billion transactions every month. The GST Network has also launched two call centers from 1st July to handle the queries from taxpayers and tax officials. GSTN has partnered with the top IT companies like Infosys and Tech Mahindra for operating the call centers.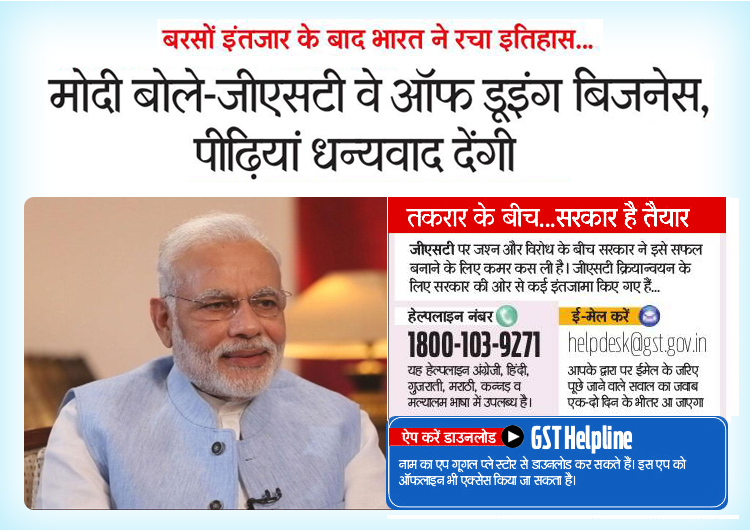 GST Enrolment Helpline
Any taxpayer facing enrolment queries can call on toll-free number 0120-4888999 for assistance. It also has an another call center dedicated only for tax officials, the call center number 0124-4479900 is for officials and their queries on GST.
GST Customer Care Toll-Free Helpline Number- 1800 103 9271
GST Helpdesk Helpline Support Number- 0124 4688999
GST Customer Care Email Address- helpdesk@gst.gov.in
Official Website Address- www.gst.gov.in
Apart from this, the Central Board of Excise and Customs, which comes under the Department of Revenue, has also come up to answer a wide variety of frequently asked questions by industry and concerned people. It has explained a variety of topics from GST registration to input tax credit to excise credit to point of tax to Special Economic Zones. People accessing the Internet can easily visit CBEC which has opened many lines of communication for addressal of GST-related queries. One can contact the concerned authorities and get their queries answered through below-mentioned help desks.
GST Help Desk
Email: cbecmitra.helpdesk@icegate.gov.in
Telephone: 1800 1200 232
GSTN Help Desk
Email: helpdesk@gst.gov.in
Telephone: 0120 4888999
Twitter handles: @askGST_GOI, @askGSTech
GST Helpline
Many private firms are also geared up to help and enlighten people about GST. SAG Infotech, a pioneer taxation solution provider, had launched the 'GST Helpline' App several months before, for the aforesaid purpose. Toady, two top daily newspapers – 'Rajasthan Patrika and Bhaskar' have hailed the initiative of the company and specially mentioned the name of its app as one of the best apps available to understand GST and to reach at the time of need regarding GST.