GST Helpline is a user-friendly mobile application which is available for both iOS and android platforms. Users can easily install the app via Google Play store.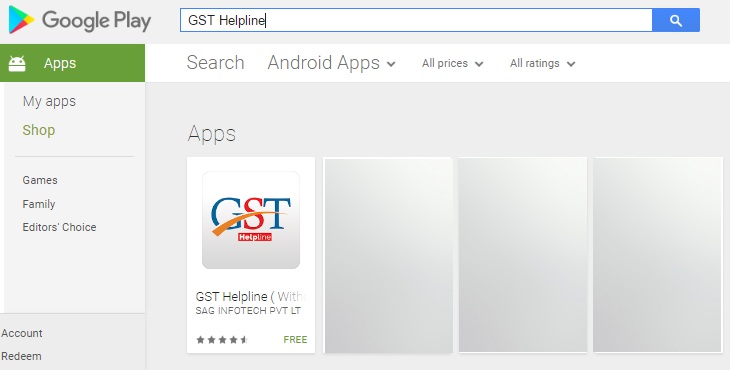 The app has been created by SAG Infotech PVT Ltd, a Jaipur based firm. It supports Android version 4.0
Steps for using GST Helpline Application and above. The main aim of creating the app is to make users aware about GST implementation in India, enrollment process of GST and latest updates articles, news about GST in India.
It is supported by several languages such as Gujarati, Hindi, English, Tamil Nadu, Sindhi, Tamil, Punjabi, and Telugu. The app can also work in offline mode. The features that work in the offline mode are GST HSN/SAC Codes, Draft ACT, Rules, and Draft forms.
The company is offering a flat discount of 25 percent on all Softwares. Users or buyers just follow the given link to download GST Helpline App on their mobile phones and avail the discount offers. After the 15 days of installation, you will be benefited with pop- up. You can also install just by the simple QR code mentioned on the portal.
Install GST Helpline App as early as possible and avail the benefits
Get latest updates, articles, and news about GST in India
We welcome user's or buyer's opinion
Get accurate figures of your tax according to new GST regime
Technical Details:
Last Updated On May 5, 2017
Current Version 1.3.1
Requires Android 4.0.3 and up
Steps for using GST Helpline Application
GST Helpline App Releases 1.3.4 Latest Version for Android and iOS users with Some Advance Features: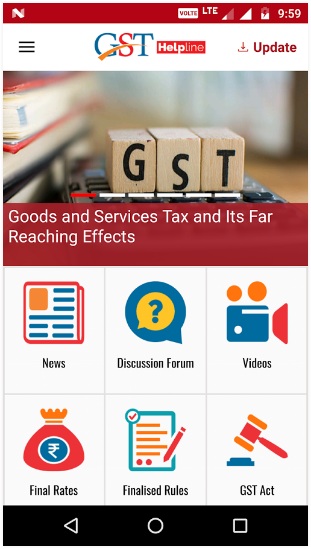 Homescreen: 
Click on the GST App Section
Home Page of an App is divided into different sections which include Latest News, Discussion Forum, GST Videos, Final and Finalised Rules, Final Rates, Calculator etc.
Helpline and HSN/SAC code
Click on Menu button on the top side a left sidebar displays with GST Log in, Provisional ID Help, enrolment process, guest post, feedback, faq, important links, applicable states, social sharing feature
News and Article Section
It will be updated on regular basis
You will be notified with latest GST news
Brief Description on GST on an array of topics and sector-wise impact
Videos:
Videos section gives you a glimpse of popular youtube videos on GST India
The videos offer in-depth study and opinion over GST by government personnel and individual channel owners.
With the help of videos, users can easily register, file returns as well as GST benefits and it's effect after the introduction of GST in India.
Users can easily enhance the knowledge about the GST regime in India
Just by watching videos, a common man can easily understand the concept of GST in India and does not fear about the GST regime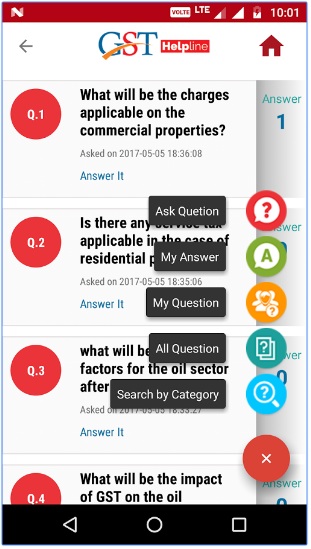 Discussion forum:
Users can ask their queries related to GST law in India, your queries will be answered by our CA experts and you will be notified automatically when your query solved
GST App is one of the best apps to clarify your doubts related to GST
Healthy discussion between users and qualified CA which will provide you deep understanding or knowledge of the GST regime in India
Our expert team will try to solve your query as soon as possible
Finalised GST Rules:
Finalised GST rules that have been passed by the parliament and the states across India
Finalised GST rules will include transaction details, registration procedure, annual turnover specified by the Government
Draft Form Section:
Draft form section includes registration process, return/statement, challan, Refund forms (center), Refund Forms(State), Invoice format
All forms are available in PDF format
Draft Rules Section:
Draft Rules Section includes registration process, Return forms, Payment of tax, Refund and Tax invoice, credit and debit notes
You can download all forms in PDF format and easily read
Draft Act Section:
Further Draft Act section categorized into three different sections i.e., GST draft law, Model GST law and draft GST compensation law
All files are available in pdf file to read
Available in several different languages Hindi, Gujarati, Bengali, Marathi, Punjabi, Sindhi, Tamil and Telugu
Flow Chart Section:
Flow chart includes several varieties of GST forms for regular dealer, existing taxpayer, composition scheme, Input service distributor, UN bodies/Embassies, tax deductor, Non-resident Assessee, Temporary registration, E-commerce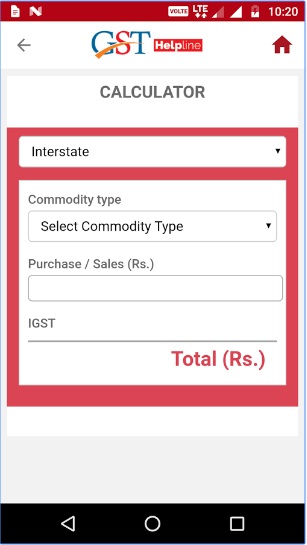 Calculator Section:
Under this, Firstly you have to select the transaction type: Interstate or Intrastate
On selecting both, you are required to input commodity type such as Precious metals, Essential items (6%), Non-Essential food items (12 %), standard rate(18%), Luxury item(26%), sin taxes on tobacco products(40%)
Fill an amount in the Purchase/ Sales Box
After putting an amount, CGST and SGST will be calculated automatically
The overall GST comes after fetching the user data and shows up the total amount
Provisional ID Section:
You can also get help for Provisional Id
State-wise information on procedure of getting provisional ID
Final Rates Section:
Final Rates of Goods and Service tax yet not be disclosed by the tax authorities
Here, the rates have been provided as per the last GST council meeting. Rates are categorized into different sections i.e., 0%, 5%, 12%, 18%, 28%, 28% with Cess category-wise on wide range of goods and services
HSN/SAC CODES Section:
HSN codes will be used for the goods whereas SAC codes will be used for the services
There is an option of search bar for searching HSN codes as well as SAC codes
Enrollment Procedure Section:
Any kind of problem you are facing while enrolling for GST which includes username or password, Change Password, Register DSC, update DSC, Track application Status, View saved application, view FAQs and Help docs.
We are here to solve your problems and consult with us 24* 7
Applicable States Section:
In which states GST has been passed along with specified dates are mentioned here